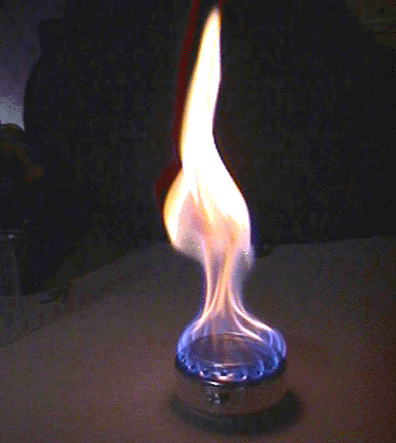 Burner element in use.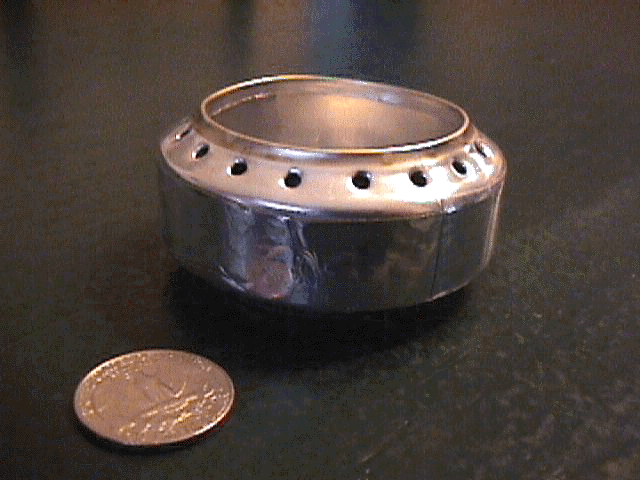 Soda can stove
Soda Can Stove
Item # scs-42003
$10
I have been using Alchohol stoves for several years. My original stove was a comercially produced "Trangia" stove made in Sweden. The problem was that the stove was just to heavy (3 whole oz.) I came across the plans for this stove on the web. ( I offer a link to a make your own stove page on my favorites). I offer this stove for those of you who have neither the time nor the desire for a do it yourself project. These stoves come with a 30 day money back guarantee (As long as the stove is returned in good condition.)
This stove is made from recycled aluminum cans and high-temperature foil tape. I make them my self right on the old kitchen table. The stove will burn denatured alcohol, grain alcohol (Everclear), plain rubbing alcohol, Iso-HEET Fuel Line Anti-Freeze (and other brands), hexamine solid fuel tablets and Esbit solid fuel tablets.
Under ideal conditions it will bring two cups of water to a rolling boil
in 5 - 6 minutes. The maximum fuel capacity is 3 ounces. One ounce will provide a burn time of approximately 7 minutes, 2 ounces about 12 minutes, and 3 ounces about 17 minutes.
The stove is the exact diameter of a soda can (about 2 1/2 inches) and approximately 1 3/4 inches tall. It weighs approximately 3/8 ounce. There is very little that can go wrong with this stove. It must be noted though that care should be taken in packing this stove in ones pack. I generally pack it "nest" style inside my pot along with my pot stand and windscreen.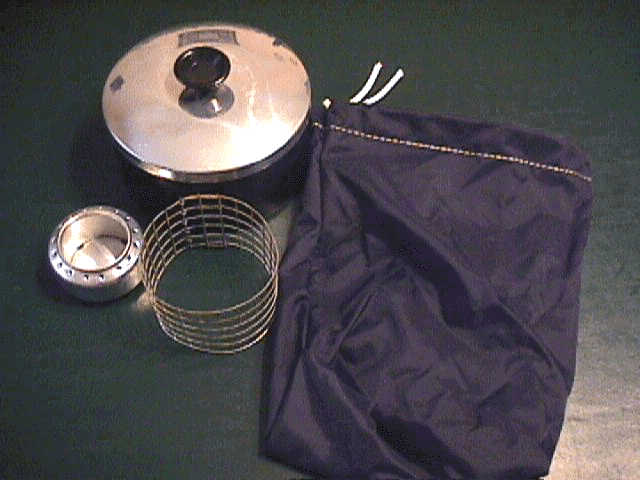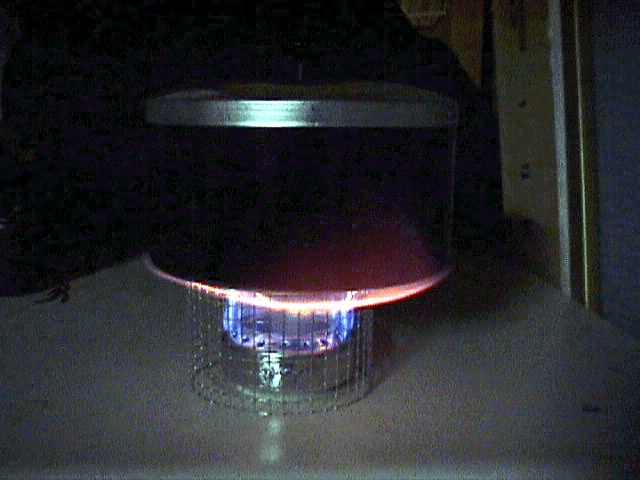 Stove Combo Kit
Item # sck-42003
$30
To make things even more convenient for you we just went a head a put together the whole ultralight cooking kit. Aproximate weight for the whole kit and kaboodle is 6 oz.
Our Stove combo kit consists of the soda can stove, our hardware cloth pot support, lightweight aluminum (32 fluid ounce capacity) cooking pot and lid, and nylon carrying bag.

The cooking pot and lid are commonly referred to as the "Wal-Mart Grease Pot". It is a greese catching set made by the Mirro Corporation. I have found this pot to work quite well and the weight savings is tremendous.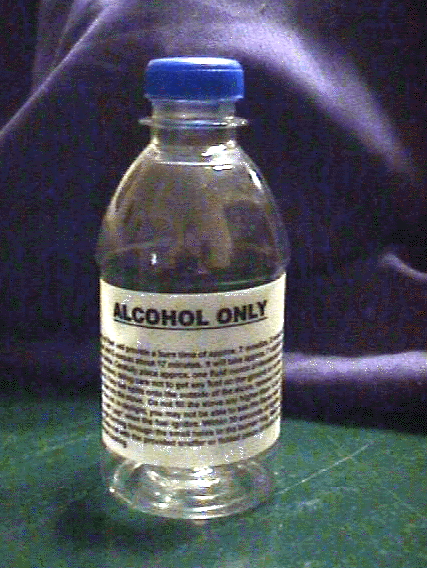 8 oz Alcohol fuel bottle
8oz Alcohol Fuel Bottle

Item # afb-102303

$2.25
This is an 8oz bottle that I use to hold denatured Alcohol for all my trips of 2 - 4 days. I generally only cook one hot meal each day and heat up an addittional pot of water each day for coffee or hot soup. An 8 oz bottle works well for me. I have included some instructions for using alcohol fuel with the soda can stove along with burn times on each bottle. Each bottle sells for $2.25.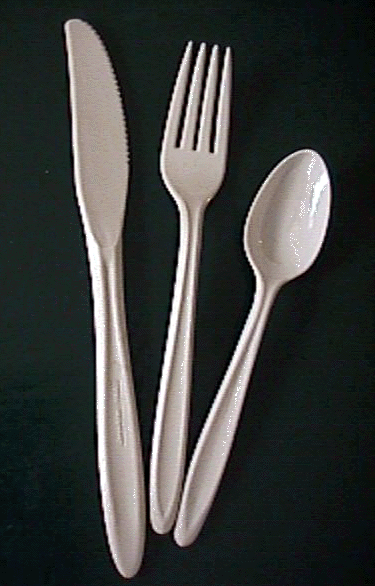 Lexan Silverware set
Lexan Silverware Set
Item # Lss-102403
$2.00
This Lexan silverware set is light (1.5 onces) strong. If you are looking to go even lighter just take the spoon.